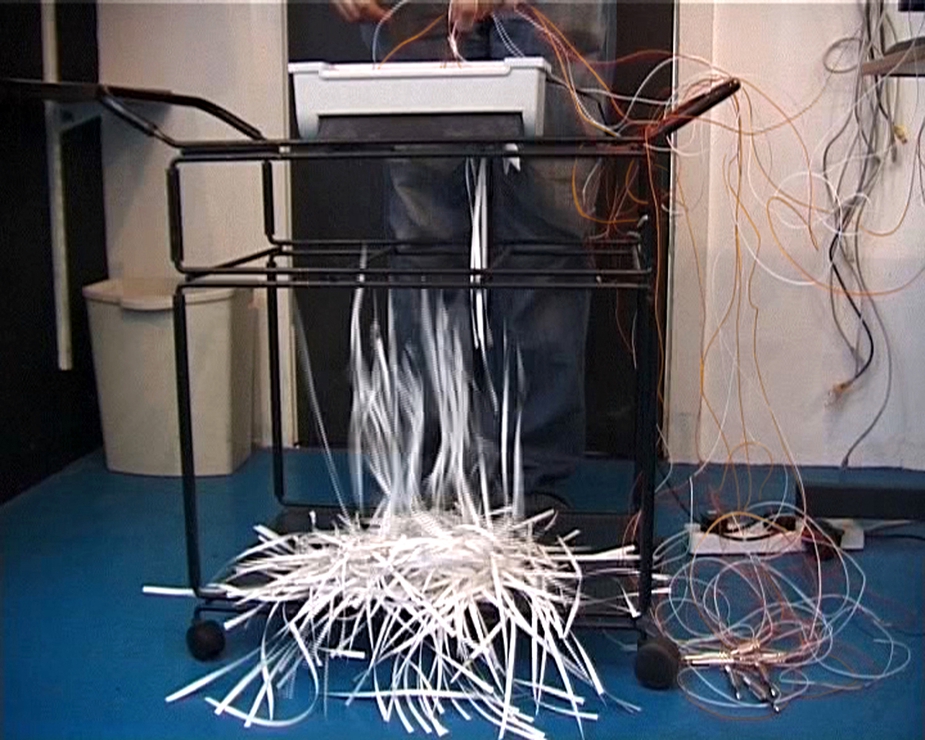 'A rich future is still ours' by Juneau Projects
All for Show
Saturday 29 July 2017, 6–9pm V22 Louise House
ALL FOR SHOW, curated by Lee Campbell, is an internationally-touring exhibition/screening of filmic works by British artists exposing the banalities of everyday life through humour, self-introspection and serious play.

These short films made by British artists test the acceptable limits of humour in the white cube art gallery using, what Jessica Lack suggests in her review in i-D magazine (July 2005) 'slapstick theatrics' (Lack, 2005:55) and 'an awkward and macabre sense of humour […] cringingly funny. These idiosyncratic films succeed in finding surreal quirks in the banalities of everyday life' (ibid.) 'As Lee Campbell [has] referred to it […] laughter can be a "device to counter shhh, be quiet" in the otherwise frowning environment of the white cube art gallery': Bob Dickinson, The Last Laugh. Art Monthly 383: February 2015
After a short intermission (20 minutes), a 30-45 minute discussion will take place between the curator, several participating artists and Ian Brown who will be chairing the dicsussion.
Film Screening: 6pm
Intermission: 7.40pm
Discussion: 8pm

Anyone under the age of 16 years must be accompanied by an adult.
Previous screenings: Café Gallery Projects, London, Studio 1.1, London; Nexus, Philadelphia; Southern Exposure, San Francisco, Het Wilde Weten, Rotterdam, Netherlands; KX, Hamburg, Germany, Galerie Verticale, Montreal, Canada; Physics Room, Christchurch, New Zealand; Lump Gallery, North Carolina, USA and Soap Factory, Minneapolis, USA.
Lee Campbell, Ph.D., is an artist, curator and lecturer in Fine Art at University of Lincoln and Performance: Design & Practice at Central Saint Martins, University of the Arts London.

He has built a strong international portfolio of research publications encompassing solo performances, artworks (often audience participatory), curatorial projects and self-initiated symposia. In 2011, he organised With Humorous Intent, a two-day symposium at Mostyn, Wales exploring the role of humour within contemporary art practice. In 2012, he led a discussion based workshop and lecture relating to slapstick and art practice at De Appel, Amsterdam and in 2013, he co-organised (with Mel Jordan) Heckler at Trade, Nottingham and ArtsAdmin, London which interrogated art and heckling. Visual art/performance events he has curated include Suburbia, held at The Foreign Press Association in London in 2008. Amongst his solo performances include Whitstable Biennale 2008. He has published extensively in the journals/books International Journal of Performing Arts and Digital Media, Performativity in the Gallery and Body Space Technology and will publish in the Journal of Pedagogic Development in November 2017. He is co-organizing (with Lisa Gaughan) a conference entitled Provocative Pedagogies: Performative Teaching and Learning at University of Lincoln in October 2017.
Venue info
V22 Louise House
Dartmouth Road
Forest Hill
London
SE23 3HZ
(Between Forest Hill Pools and Forest Hill Library)
Overground: Forest Hill
Bus: 122, 176, 197