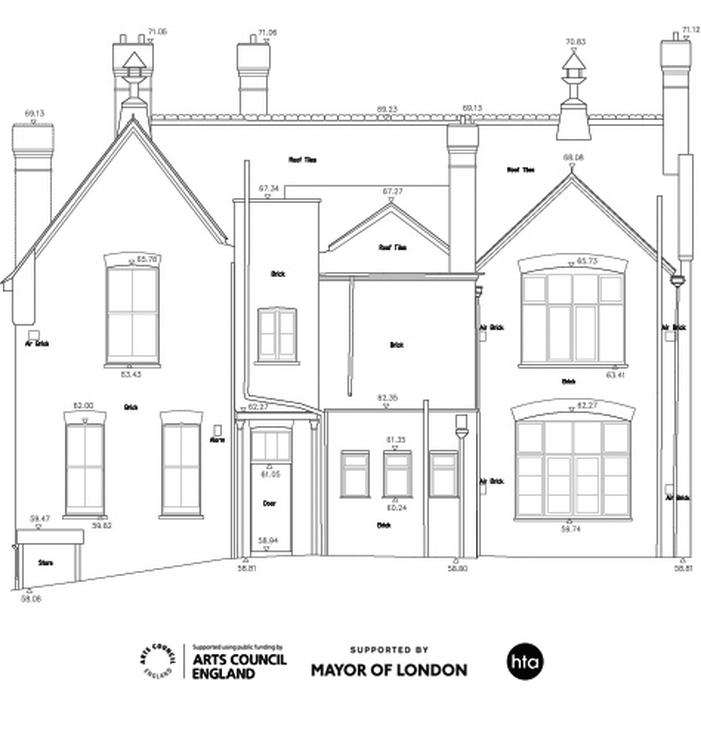 V22 Louise House: Community Consultation
Please download a copy of the latest plans here.
Please email us with feedback.


V22 LOUISE HOUSE
V22 Foundation was pleased to present an open discussion session for proposed renovations at Louise House, Forest Hill. Louise House is a Grade II listed building. Originally a Victorian Girls' Industrial Home, it now houses fifteen artists' studios in the main building and we are planning a range of initiatives for the garden and rear of the property.
V22 is a multifaceted art organisation, with a shared ownership model, which specialises in the collection of contemporary art, the production of exhibitions and events, the provision of artists' studios, workspaces and artisans' workshops at affordable rates, and the running of community engagement and education programmes.
V22 Foundation has received funding from the Mayor of London's High Street Fund and Arts Council England Small Capital funding in 2015/16 for the redevelopment of the property. With this funding we are able to:
- renovate the rear building as an exhibition space, community studio, café and events space and provide a community garden;
- redesign and build the front garden to form a single space in combination with the Forest Hill Library and Pools.
All of these ideas have come about through our discussions with the local community and we now want to invite all interested parties, from Forest Hill, and our V22 art audiences, and further afield to join us in finalising the plans.
If you could not make it to this event, please save the date for our next community consultation session on 24 September 2015 when we will be presenting plans for submission to the local authority.
We hope you can join us in helping to build this new art and community centre.


Mayor of London
The Mayor of London's £9m High Street Fund aims to make the capital's high streets even better places to visit, live in and do business in.
Grants awarded in March are now being invested in forty-two high streets. The investment has levered around £20 million of match funding from local authorities and private sector partners, with £3.42 million specifically for culture-related activities. The fund is part of the Mayor's overall £129 million investment in high streets that has already helped fifty-six high streets across London and attracted £56 million of match funding from public and private sector partners.
Chairman of the Mayor's Design Advisory Group, Daniel Moylan, said: "London's high streets are the beating heart of the capital's business community and part of what makes our city so special. I am delighted to be supporting projects that seek to diversify and unlock opportunities in our most prized urban assets."

Arts Council England
Eleven arts organisations across London have been awarded funding through the Arts Council's Small capital grants programme. These grants are designed for organisations to become resilient, more sustainable and innovative businesses through improving their existing buildings and equipment, reducing carbon emissions, or increasing the capacity to engage with digital audiences.
Joyce Wilson, Area Director, London, Arts Council England, said: "We are pleased to have been able to support a broad range of organisations across London through our small scale capital programme. From essential refurbishment work through to supporting digital ambitions, each project will have a significant impact on the long term resilience and sustainability of the respective organisations, supporting their capacity to deliver Great art and culture for everyone."


HTA
Louise House forms one of HTA Design LLP's Priority Research and Innovation Projects for 2015/16, HTA's planning and landscape design teams are supporting V22 with their vision and ambition to create a new art centre/exhibition space within the grounds of this Grade II listed building on Dartmouth Road in Forest Hill, Lewisham.
As a multi-disciplinary design practice, HTA Design LLP supports a number of Research and Innovation Projects to broaden the practice's interests and increase the learning and training development opportunities for its staff. This work is undertaken on a pro bono basis. Innovation Projects form a strong part of HTA Design LLP's business purpose to create a thriving civic realm.